Back to Blog
User Story
RevTron Insights for Triple-Digit Growth
10 November 2021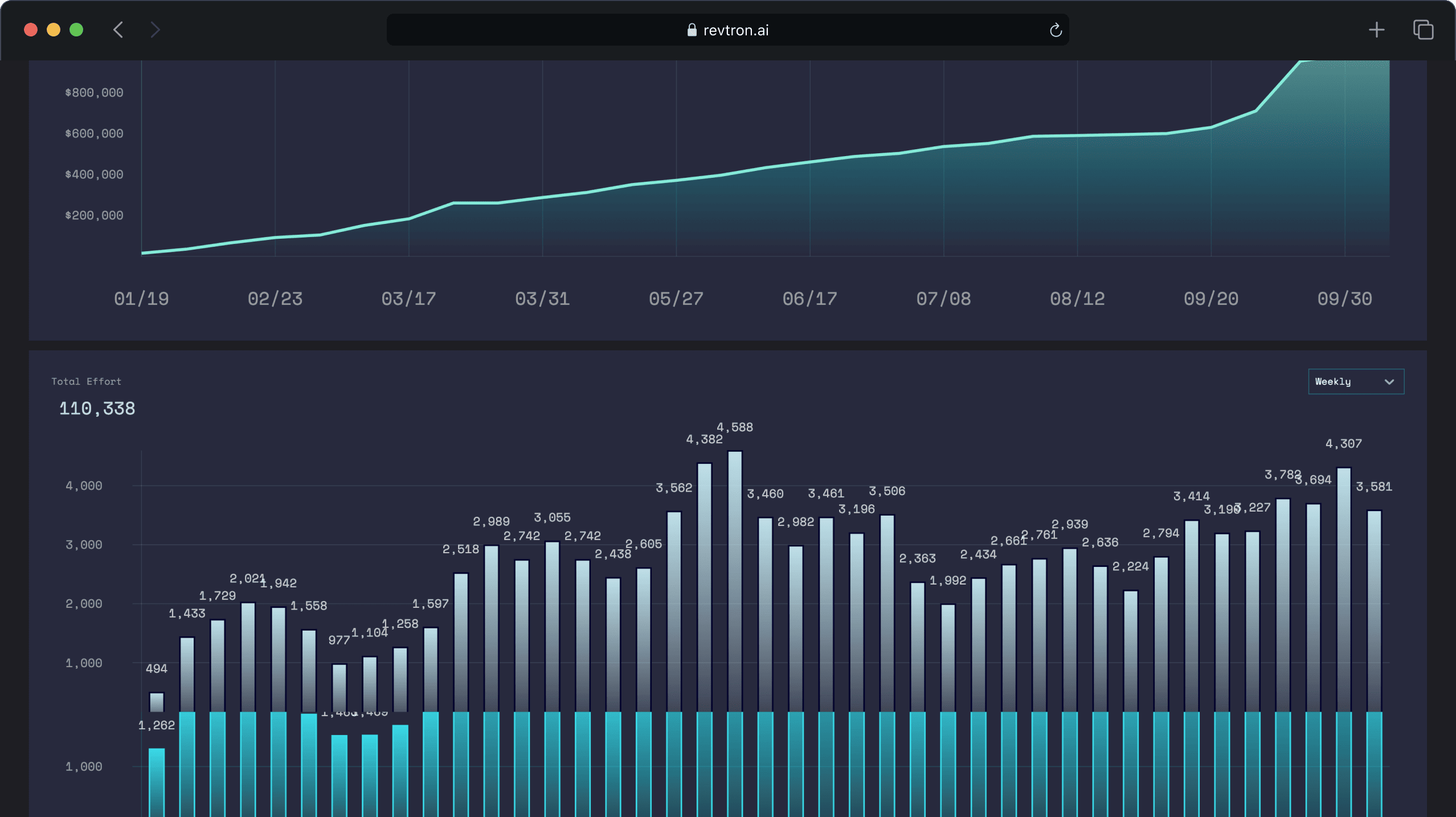 RevTron is a revenue platform that drives exponential growth for SaaS Go-To-Market teams.
Through connected data & visualization, RevTron:
Opens information flows into market mechanics
Enables machine learning targeted prospecting and forecasting
Provides visibility into cross-functional performance
Learn how RevTron:
Achieved launch velocity with their first platform release
Powered a data-intensive React application with GraphQL APIs
Streamlined customer onboarding down to a few minutes
RevTron insights that drove 100% annual growth for early SaaS client
Dylan Dempsey and Zach Naglieri co-founded RevTron and met at IBM while both working on large scale data projects for global customers that:
Re-defined company north star metrics
Connected operational data through to data warehouses
Building centralised KPI dashboards to measure business performance.
These projects took months and, in some cases, years to complete. Dylan and Zach observed the inefficiency in delivering these projects. Yet, the project drove enormous growth. The investment was worth it when companies used data in their operations.
RevTron is a sophisticated platform that was born from a simple question. How can we drive exponential growth outcomes with data in much less time, with a much smaller team?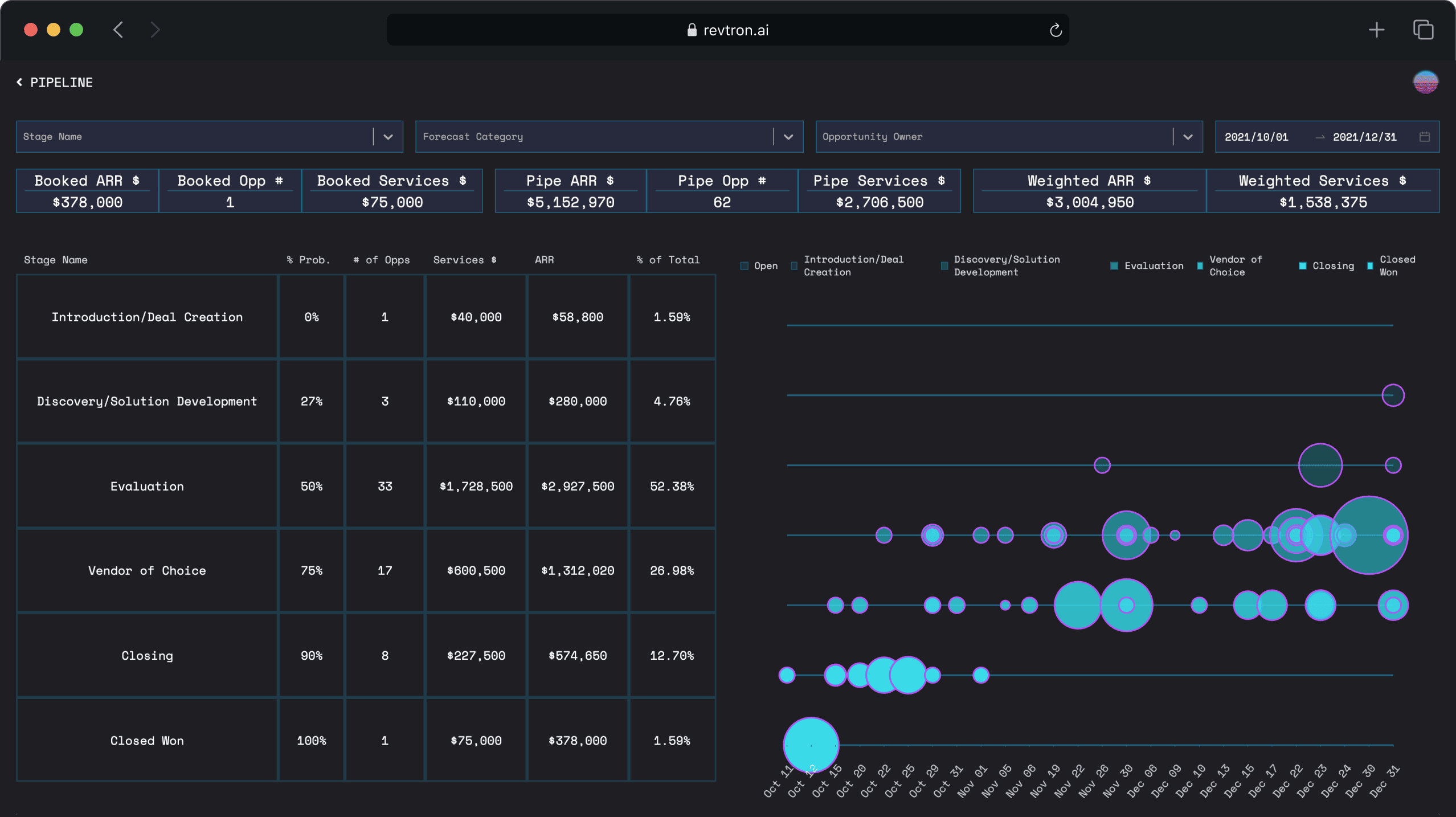 RevtTron Dashboard
This was easier said than done. The team set out to work with customers to refine their approach. They discovered that go-to-market teams at SaaS companies were the least optimized. These SaaS companies had the most pressing need to use data more in their operations.
The RevTron team have since helped to 5x their first customer's revenue through the platform. With this kind of business impact, the team has not looked back since.
Early traction and hitting roadblocks
The RevTron concept was getting traction with early customers.
The platform comprised of:
A React frontend app with robust data visualizations
Advanced data pipelines, and machine learning models
Postgres databases for each client instance, together with GraphQL APIs sitting on top
The team hit its first roadblock when the stack wasn't coming together as expected. The team had not built user authentication. They were unable to release their frontend experience to production, showcase data visualizations within the platform or onboard their beta customers. The clock was ticking. Dylan and the team needed a solution fast.
It would need to be a solution that their lean team could deploy and manage without DevOps to help execute. It was a few sleepless nights for Dylan and the team.
Discovering a serverless backend solution with GraphQL
During one of these late nights, Dylan and the team came across Nhost. It had Postgres, GraphQL, Auth, Storage and it looked like an ideal solution for the RevTron stack.
The next morning the team set up a new project. They tested it out from the backend first and then started refactoring the frontend code with Nhost packages. Within a week they started onboarding their first beta users to the RevTron platform. This was a huge milestone for the team.
"I still haven't seen a product like Nhost that's as comprehensive or smooth to use. GraphQL is much better for data intensive frontend development. We knew we didn't want to create a REST endpoint for each data visualization component we were building. When I reached out to migrate our beta customers, the Nhost team was super responsive."
How the team uses a Serverless backend on the day to dayfor
Now that RevTron has set up their backend with Nhost, each day they can:
Check in on client instances
Connect to databases for visualization
Test and release new GraphQL queries for frontend development
The team has also set up all the transactional product emails through Nhost as well.
RevTron customer onboarding has reduced to minutes through the ease of creating a new Nhost project and automating the database setup. Customers are able to step into RevTron platform much faster and it's a whole new world for them.
"Nhost gave us the velocity we needed to launch. Without Nhost, we would look more like an average development team. We don't look like an average team anymore. We have our early beta customers live on our platform and we wouldn't be this far along if it wasn't for Nhost."
RevTron will be opening up from Private Beta soon.
If you are a SaaS company in search of exponential growth, you can sign up for their waitlist at revtron.ai.